Why the name Inspired Thinking?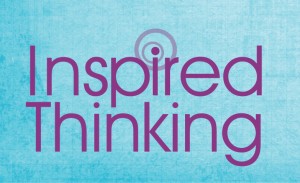 Patrick Mimran once said
'the less inspired we are the more we think'.
Overthinking the wrong things can cloud your focus and wear you out. Alain de Botton sums up a healthy alternative;
'the mind does most of its best thinking when we aren't there. The answers are there in the morning'.
These sum up how I work. I believe in doing research, the hard graft on gathering information, facts, getting under the skin of an industry or business I work with. After that the inspiration takes over. When we're inspired by something we're passionate about, there's often more clarity and purpose. I'm passionate about making a real difference in the businesses I work with. For me the inspiration always comes after the hard work has been done. After I gather the relevant market information, it is prioritised and presented to you so you can make the decision to develop your business.
Objectivity gives clarity 
Running ones own business can give you a subjective viewpoint, you may spend most of your time working 'in' the business as opposed to 'on' it. Sometimes it's often another person who's not so caught up in the operations of the business who can really see or simplify the problems. Of course it helps if that person has business judgement and experience.
I look to bring fresh perspectives, ideas and inspired thinking to your business.
Check out some articles and blogs I've found interesting and inspiring along the way.
For more on ideas and inspiration, here's an interesting whiteboard video talking about how where good ideas come from.